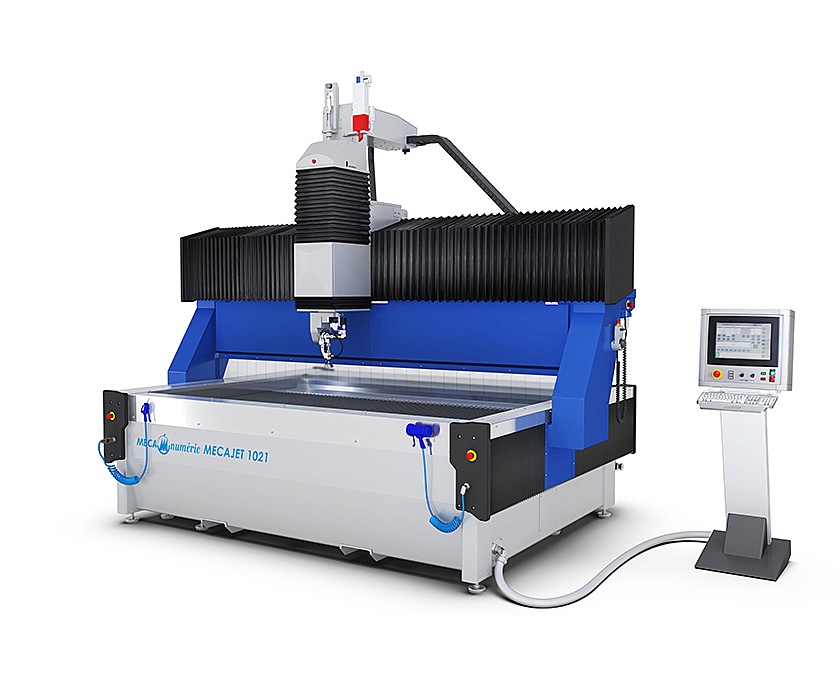 MECAJET
Discover MECAJET the new range of Water Jet equipments conceived by MECANUMERIC, machining and cutting by VHP soft materials, and, with addition of abrasive, hard materials.
Description
Technical datas
Fields of activity
Discover the new range of very high pressure Waterjet equipment MECAJET designed and manufactured by MECANUMERIC, for cutting of several materials:

* Soft materials:
- rubber
- plastics
- leathers...

* And, with addition of abrasive, hard materials:
- metal
- ceramic
- glass
- stone
- composite materials...
STRENGTHS
Designed and manufactured for intensive and professional use.
Cutting of soft materials with pure water (rubber, plastics, foam, leather…) and hard materials (metal, ceramic, glass, stone, composites...) with addition of abrasive.
Fixed table equipment with working size from 1000x2000 mm up to 2000x6000 mm in standard.
Wide possibilities of customization.
Driving system on numerical control CN9000 ISO and CAM software dedicated for water jet cutting applications.
High pressure pumps at 4136 bar or 6200 bar.
Patented cutting heads and systems of metering and feeding abrasive.
3 axis or continuous 5 axis cutting heads.
Quality kinematics which integrates industrial components delivered by worldwide leaders in their sector and assembled on high inertia steel welded frame, stainless steel tank with adjustable water level.
OPTIONS
5 axis head for mounting on Z axis single head machines
Additionnal 3 axis head for mounting on Z axis double head machines
Divider, fourth horizontal digital axis for work on tubes
Manual head orientation system +/- 45 ° angle
Electronic flatness tracking system for 3-axis Z1 single head
Auxiliary head for drilling - Electrospindle 2.2 KW / 15,000 rpm max
Auxiliary drilling head, pneumatic
Water softener
Ballast system for rapid immersion
Sludge suction and recovery system
Aiming laser
Abrasive water check valve
STRUCTURE
high inertia steel welded structure cast in one piece,
welded steel mobile gantry, stainless steel tank,
table with zinc coated for abrasive cutting, or plastic honeycomb coating for cutting with pure water.
KINEMATICS
guidance by grinded steel rails and preloaded ball bearings,
transmission by ballscrews on XYZ axes,
motorisation: « AC Brushless » servomotors.
MECAJET II 1021
MECAJET II 1531
MECAJET II 2041
3 axes
5 axes
3 axes
5 axes
3 axes
5 axes
X stroke
2500
2100
3500
3100
4500
4100
Y stroke
1320
1100
1820
1520
2220
1760
Z stroke
300
300
300
300
300
300
Maximum sheets dimensions in the tank in mm
1340 x 2600
1840 x 3600
4520 x 2240
Distance gantry / table in mm
450
450
450
Max. speed in m/min : pure water / abrasive
25
25
25
Overall lenght in mm
2800
3300
3500
Overall width in mm
3800
4800
5750
Height in mm (workshop / transport)
4000/2800
4000/2800
5400/2800
Weight in kg (empty tank)
4000
5500
7000

CUTTING HEADS

Pure water cutting head KMT AQUALINE
Abrasive cutting head KMT AUTOLINE or IDE
Abrasive tank under pressure, capacity of 200 or 1000 liters, KMT ABRALINE

ENERGY

6 bars – 3 at 8 m3/h
400 V 3-phase 50 Hz + earth 50 to 150 A per phase according pump
THP PUMPS

KMT
Type
SL-V 15S
SL-VI 30S
SL-VI 50S
SL-VI 100S
PRO-I 60SS
PRO-I 125D
Power
15 HP
30 HP
50 HP
100 HP
60 HP
125 HP
Max. Pressure
3800
4136
4136
4136
6200
6200
BFT
Type
ECOTRON 40.22
ECOTRON 40.37
ECOTRON 40.45
SERVOTRON 40.45
HYPERTRON 60.45
Power
30 HP
50 HP
60 HP
60 HP
60 HP
Max. Pressure
4000
4000
4000
4000
6000