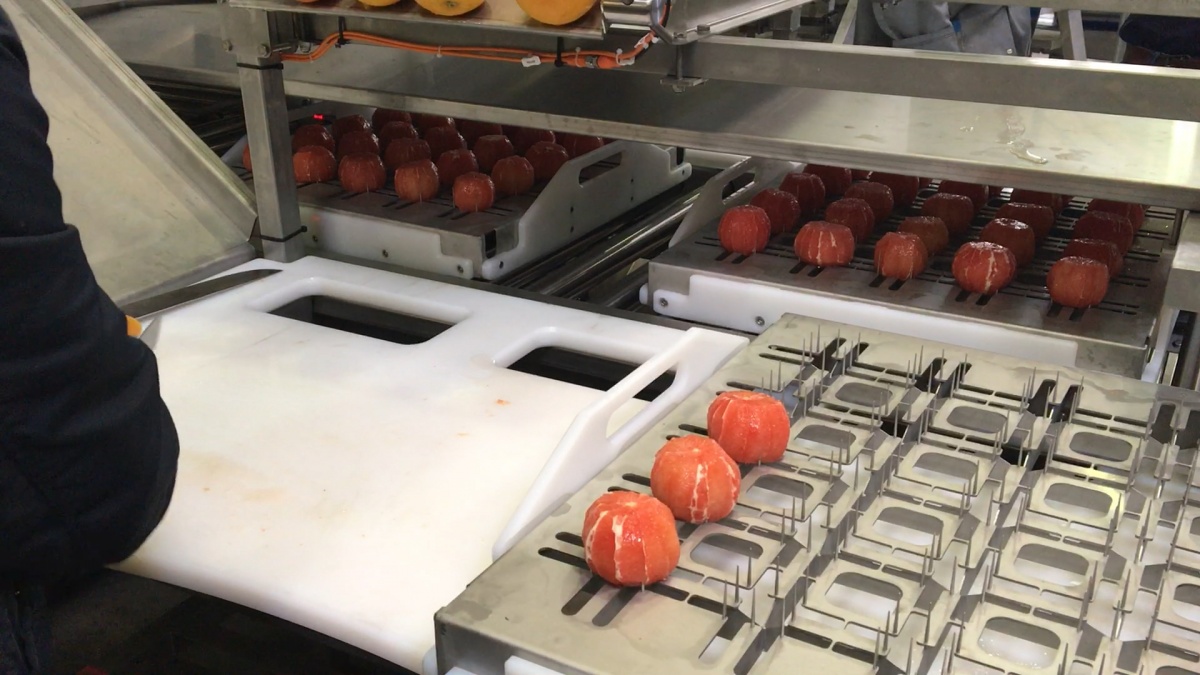 Citrus cutting
A production line to automate the cutting of citrus fruits
Thanks to a 100% integrated mechanical, automation and electronics design office and the in-house manufacture of all its machines, MÉCANUMÉRIC was able to meet its client's need for automation. This new production line dedicated to the cutting of citrus fruits is equipped with 8 stations with conveyors which deliver oranges and grapefruits to the operators in charge of peeling them manually. Each station has been designed to improve operator comfort and simplify cleaning: working height, citrus delivery area, peeled fruit reloading area, waste disposal, etc.
Once peeled, the citrus fruits are loaded onto trays. They are then conveyed to the pure water jet cutting area equipped with 20 heads (10 horizontal and 10 vertical). A 6-axis robot is used to rotate the loaded plate and to cut cubes or slices. The next step in citrus processing is the unloading of the pieces onto a final conveyor. Finally, the fruits are sorted and packed.
The robot is programmed to make the production chain efficient. It allows all workstations to be operational simultaneously without any loss of time. Thus, the empty trays are replenished with whole citrus fruits and then distributed again to the operators.
Fruit processing is effective throughout the process. It retains the integrity of the citrus fruits. Thus, the juice is not extracted from the pulp, which retains its taste, texture and nutritional qualities. Citrus peel, rind and zest are initially removed by an operator and can be used independently.
MECANUMÉRIC expertise for the agri-food sector
Water jet cutting and the use of a high quality stainless steel structure are particularly suitable for the food industry and the transformation process in cold and humid environments.
Indeed, stainless steel does not rust, resists corrosion and heat. It also has high mechanical strength. It is easy to clean and respectful of the environment, which makes it an ideal material for machines dedicated to the processing of foods such as citrus fruits (lemons, grapefruits, oranges, etc.).
Pure water jet cutting is also increasingly used in the food industry because, unlike knife cutting, there is no direct contact between machine parts and the food product. This technique considerably reduces the risk of bacteriological contamination.
In addition, the High Pressure pumps ensure cuts at more than 3,000 bars, which makes it possible to obtain process water free of all bacteria thanks to the Pascalization phenomenon. Depending on the power of the pump and therefore of the jet, it is easy to quickly cut fresh or frozen products, meat or fish, pastries, fruit, chocolate...
MÉCANUMÉRIC markets the MDA 600x400 mm cutting format range specially designed for the agri-food sector but can also design custom equipment thanks to its expert technicians and engineers.
French manufacturer, expert in water jet cutting machines, MÉCANUMÉRIC designs and manufactures CNC industrial equipment dedicated to the food industry. In particular, the company designs and produces a completely tailor-made production line for agri-food players specializing in the marketing of fruit salads with all types of citrus fruits: lemons, grapefruits, oranges, mandarins and clementines.